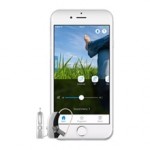 After some internet research I contacted a few specialists in the Preston area. Irene Taylor was able to supply the Widex Beyond 440 made for iPhone hearing aids £1500 less than a previous quote. She tested me quickly after work and got my aids in about a week, just before the rundown to Christmas. The aids are astonishingly clear and I am happy to wear them for longer.
The sound automatically adjusts to the surroundings and you don't have to play around with the settings much. Noise reduction actually works – the hum from the air conditioning at work is suppressed.
Connectivity with iPhone is more than a gimmick, my phone rings in my ears and I can answer calls hands free without disturbing others. I can vary the tone with the downloaded app, and I can change the direction of the microphones to hear those behind me when I'm driving or to suit if I'm stuck at the end of a restaurant table.
I can place the microphone of my iPhone next to a source (like TV) and listen through the aids. Whenever a video plays on Facebook or YouTube or I listen to a tune on Spotify the sound is automatically relayed to my ears.They also automatically connect to my iPad so that if I'm awake during the night I can watch TV without disturbing my other half.
There are still more features to come on the app and I look forward to them.
I can't thank Irene  and her staff enough for accommodating me with regards to appointments, getting me state-of-the-art aids and I am happy to recommend Irene and Preston Hearing Centre.
Turney Logan
Garstang, Preston