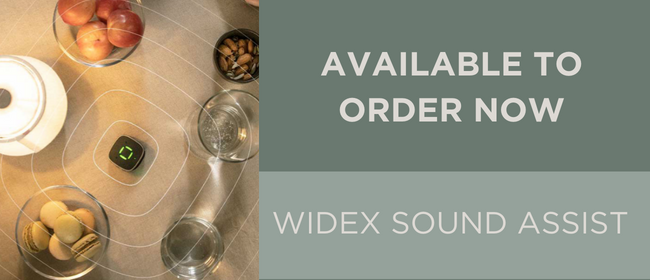 Widex Sound Assist
Widex Sound Assist is a 'Swiss Army Knife' for your hearing aids and fits in the palm of your hand.
It can be partner or table microphone, handle hands-free calls, stream from digital and analogue sources, and even be a remote control to adjust your hearing aid settings.
General Use
Changing the operating mode
Widex Sound Assist has three operating modes|:
Remote microphone, Bluetooth and Telecoil.
Wearing Widex Souns Assist
It can be carried using the integrated metal clip. It can be attached directly onto a garment or the neck loop.
Remote Microphone
Partner Microphone
When a single speaker is wearing the Widex Sound Assist, the device automatically streams the voice of the person you're talking with to the hearing aid.
Table Microphone
If you're having a conversation with more than one person, the Widex Sound Assist can be used as a table microphone. When placing the device on a flat surface it will automatically stream voices to your hearing aids. If you want ot focus on a particular person, you can lock the listening direction and manually point at the person you want to hear better.
Hands Free Streaming
In Bluetooth mode, Widex Sound Assist can be used for hands-free phone calls and audio streaming from a connected Bluetooth device to your hearing aids.
Remote Control
When not used for streaming, Widex Sound Assist can be used as a remote control for your hearing aids to change programs or adjust volume.
Contact Preston Hearing Centre for a free demo of the fantastic Widex Sound Assist and see how it can help you in many difficult hearing situations.