Roger Pen v1.1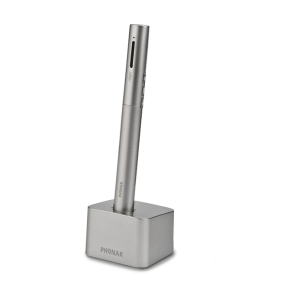 Roger Pen
Roger Pen is a cutting-edge wireless microphone that enables people with hearing loss to hear and understand more speech in loud noise and over distance.
Built on game-changing Roger technology, this fully automated solution is proven to perform better than any wireless microphone in the industry. It can be used as a standalone microphone or alongside other Roger Pens, Roger EasyPens or the Roger Clip-On Mic. It also features Bluetooth for cell phone calling, and can also be used to listen to TV and multimedia.
When to Use It
Challenging listening situations
in loud noise
over distance
when there are several speakers.
Product Details
Fully automated settings.
One-click connection.
For virtually every hearing aid & CI there is a compatible Roger receiver.
Wideband audio Bluetooth (HD voice).
Audio input.
3 color options.