WIDEX COM-DEX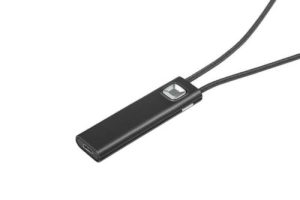 With the COM-DEX solution you are able to seamlessly communicate wherever you are and wherever you go.
BENEFITS OF THE COM-DEX SOLUTION
Stream high-quality sound from any Bluetooth device to your Widex hearing aid.
Hear your conversation partner clearly, either in noisy environments or at a distance.
Control your hearing aid and microphone discreetly using Widex's free app.
Up to 8 hours streaming time.
COMMUNICATION WHEREVER YOU ARE
COM-DEX is a stylish, hands-free communication device. You can connect COM-DEX to two phones.
This means that if you have a work phone and a private phone, for example, you can take calls through COM-DEX on either. Or use one for phone conversations, and the other for music. It's up to you.
COM-DEX is available in a choice of three colours : Champagne White, Anthracite Grey and Emerald Green.
EASY CONTROL WITH THE COM-DEX APP
Some of the things you can do with the COM-DEX app:
Adjust volume, change programs or alter sound levels of hearing aids directly
Choose the direction of the sound
Stream high-quality music or other sound for hours
Personalise your COM-DEX app with various wallpapers
See COM-DEX battery status.
For even more convenience, you can discreetly control your hearing aids via Apple Watch™ on your wrist.
CONNECTING TWO PHONES WITH COM-DEX
COM-DEX can be connected to two phones simultaneously.
You can have two calls active at the same time – one call on each phone. However, you can only stream one of them at a time to your hearing aids.
When you have two phones connected simultaneously, remember to only use the COM-DEX app on one of the phones.